Delphine Macquet founded CrossRoads Intelligence in 2016 to help people live, work and perform wherever they are and become truly global. She firmly believes that everyone and every organisation can develop situational intelligence, handle cross-cultural challenges and convert diversity into a driver for performance and richness.
Graduated in International Relations and Strategic intelligence, she started her career as an analyst for Roland Berger Strategy Consultants. She then joined the world leader in HR outsourcing (Automatic Data Processing) in order to build the market intelligence department.
In 2014, she moved to Stockholm with her family and became an Expatriate Spouse. She decided to make this expatriation an asset  and convert it into a professional opportunity, turning her passion into a new career path: helping people and companies know what they want to achieve, making them aware of all the opportunities they had around them, bringing down silos.
In 2016, Delphine graduated as a certified professional coach and a intercultural trainer from ITIM International, an international network of more than 80 consultants in more than 40 countries, founded in 1985 by one of the pioneers in culture and management thinking, Prof. Dr. Geert Hofstede.
CrossRoads Intelligence helps you find your way abroad, whoever you are, expat/spouse of expat, looking for your dream job, starting/developing a new business, part of cross-cultural teams – Wherever you live!
HOW DO WE WORK?
CrossRoads Intelligence is born from the unique confluence of coaching, cultural trainings and market and strategic intelligence technics.
Crosscultural training
Develop cultural understanding and awareness
Develop adaptative intelligence
Understand and be understood in all situations
Leverage cultural differences
Develop creative and innovative thinking
Mental Training
Tame your emotions
Develop your concentration abilities
Stay motivated and engaged all along the way
Manage your energy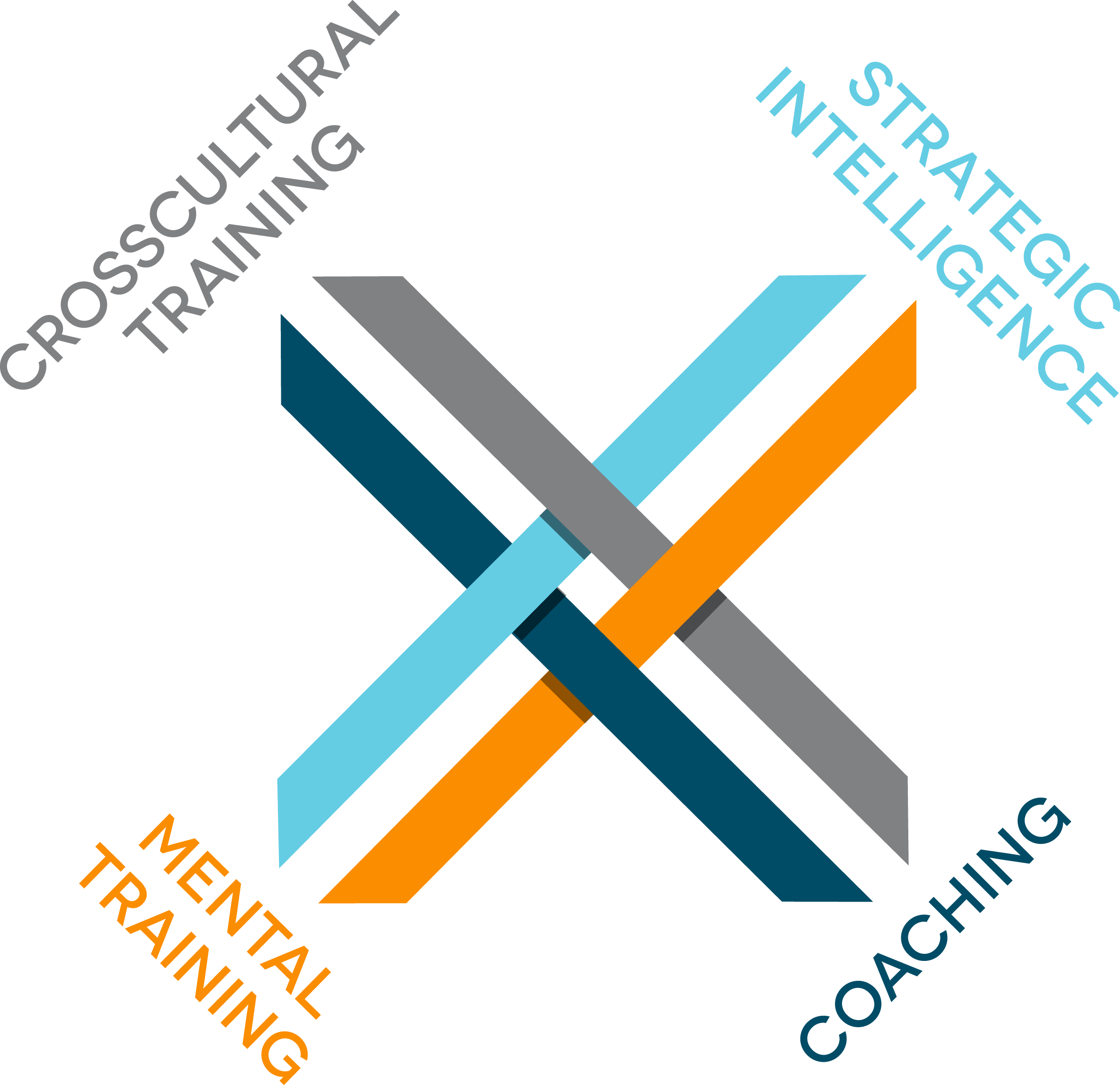 Market & Strategic Intelligence
Make internal and external data and informations efficient and useful to your growth
Build market, customer and employee awareness
Anticipate risks
Identify opportunities
Have a step ahead from your competitors
Coaching
Identify your talents, improve your skills and general performance
Identify options and build your own effective action plans
Insure motivation and engagement to achieve your goals
FREQUENTLY ASKED QUESTIONS
How is it to be coached by you?
Each coaching is unique. The key is for me to adapt to the person I am coaching. I can also choose not to adapt if it helps him/her to achieve his or her goals.
In individual as well as in corporate coaching, I pay great attention to make people feel at ease, confident, free to express their mind and all possible ideas that may come to their mind.
Nevertheless it must be clear from the beginning that you don't need a coach, you want one because you want to go deeper in your thinking, make sure you will walk the talk. You want to have a sparring partner to work with you strengthen scenarii, strategies and action plans but finally, you are the one in control; you take your decisions, those you will find the most suitable to you at that specific moment to achieve your objectives.
Do you use specific tools?
This is a question I have been asked nearly every time I meet someone interested in coaching. As a matter of fact, I don't. I truly think that it would be a mistake to put tools in the first place. Tools are a way to help people go to a process and find a solution but a tool is still a tool and is useless if the coach and the client do not work first on what they want to accomplish together and what for. Active listening, empathy, creativity, confidence and trust are the more important.
I may use tools and techniques related to coaching, mental training, strategic intelligence and planning, cross cultural communication and management but only if it make sense in achieving the objectives of the individuals or the company.
What is the link between what you used to do and what you do now?
Competitive intelligence, customer intelligence, market and strategic intelligence, all was about gathering information and analysing it to support departments in their tasks and mission: sales to better sell and compete fiercely, marketing people to better position their products, operations to serve customers better. But the most important to me was to develop company self-awareness and to make people engage and commit to what we could altogether accomplish: better work together, focus on diversity to strengthen our strategies and creativity, compete fairly emphasizing our strengths instead of bashing competitors, truly listen to our customers and align our values and culture to the company actions.
Context today is different, but I would say that my purpose is similar: help people and companies to align their values, what make sense to them with their actions to be more effective; to help them know who they are but adapt to their environment to be listened, understood, integrated and thus achieve their individual, professional and economic goals.
Intelligence or coaching, the method is quite the same: identity goals, gathering information, analyse them, disseminate them, focus on action plans, measures results and go back to goals…
Market intelligence, strategic planning… these are big words only used by big and powerful companies. That is not for us and anyway we can not afford to do such things.
Strategic intelligence, despite many believes, do not involve much financial support. Many companies or even people use intelligence techniques without even know they do.
Intelligence is, as a matter of fact, an approach to developing something, useably for an economic purpose but it can also be private like anticipating a trip, find somewhere to live or a job.
This approach works the following way: first you need to be aware of a need, you define it and you settle a target. In the meantime, you work on your self-awareness, that-is-to-say who you are, what you want and what for. The next step is more active: you step back from all information that may rush to you, find the ones you need to take the more accurate decision regarding the context and your situation. This works both for short, medium and long-term goals. This is where strategic planning helps: how will your actions be meaningful to achieve your longer-term objective? How will you align your values, your culture, your environment and what is meaningful to you in all the actions you will make for you or for a company?
Big companies may spend billions in intelligence softwares and tools but most information are open and free if you know what to look for, what you look for them for, where to look and finally how to read and understand them.